WANDLA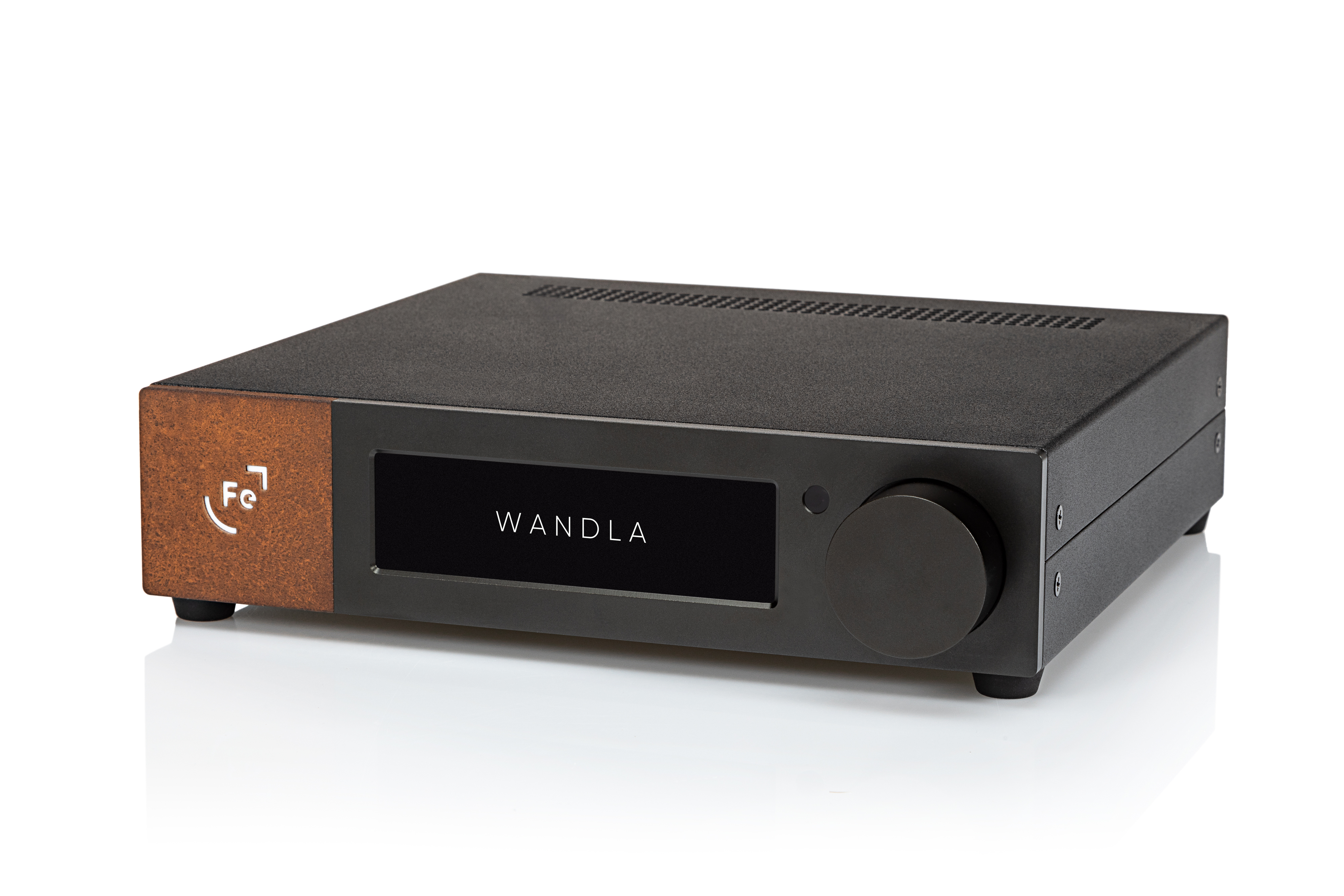 WANDLA

by Ferrum

prepare to be converted by the real thing!
With WANDLA, we are making a statement to the current and next generation of music lovers. WANDLA represents tomorrow's standard of high end digital-to-analog conversion. Think of WANDLA like a Formula 1 racing car. Like the F1 constructor's team building the best racing car, Ferrum created the best engine for The Converter.
"With Dynamic Digital Filtering, DDF in short, digital filter maker HQ Player created a total of eight filters exclusively for Ferrum. At the introduction WANDLA will feature three special filter options. We will engage with our community to make new filters available, one by one. Doing this we create a new community of digital filter specialists by interaction with us and their WANDLA's, in search of the best possible, tailor-made sound. This is truly unique to Ferrum, to the category of DA converters and to the hifi community in general."
Уникальная конструкция выходного кабеля: два провода для подачи питания и два провода для обратной связи, чтобы обеспечить стабильное напряжение в любой момент времени. Мы назвали этот метод Ferrum Power Link (FPL), и он устраняет вредное влияние сопротивления кабеля, эффективно улучшая переходные характеристики. Также значительно улучшена скорость подачи тока на вход питаемого устройства значительно
WANDLA поставляется с тщательно подобранным адаптером питания постоянного тока. Чтобы получить максимальную отдачу от WANDLA, вы можете подключить его к HYPSOS с помощью нашего собственного силового кабеля постоянного тока Ferrum Power Link. Этот кабель FPL можно заказать отдельно.
Operation:

Fully balanced, proprietary IC power amp

DAC chip:

ESS Sabre ES9038PRO

DAC resolution:

768k/32bit, DSD 256

Digital inputs: – AES/EBU (up to 196kHz/24bit, DoP 64)
Optical S/PDIF (up t/24bit)
– Coaxial S/PDIF (up to 192kHz/24bit, DoP 64)
– USB-C (up to 768kHz/32bit, DSD 256)
– ARC (up to 192kHz/24bit), TV input with CEC
– I2S (up to 768kHz/32bit, DSD 256), PS Audio® compatible
MQA®:

decoder and renderer (on all digital inputs)

Analog inputs:

RCA

Analog input Vmax:

9,5V RMS (2 – 3,5V RMS recommended)

Analogue input imp:

47kΩ

Line outputs:

balanced XLR; unbalanced RCA

Volume control:

analogue with bypass option / digital for DAC operation only

Output level:

@0dBFS, 1kHz sine 9,3V RMS balanced, 4,65V RMS unbalanced

Frequency response:

10Hz – 200kHz +/- 0,1dB

analog inputs
DAC THD:

-121dB (0,00009%); THD+N: -115dB (unweighted)

Analog input THD:

-123dB @ 2V RMS output level

Dyn. range analog:

127dB (A-weighted)

Dyn. range digital:

127dB (A-weighted)

Crosstalk:

-120dB for 1kHz, better than -100dB for 20Hz -20kHz

Output impedance:

22Ω unbalanced

Output impedance:

44Ω balanced

Power consumption:

10W idle / 15W max

Power inputs: 5,5/2,5 mm DC connector centre positive
proprietary FPL 4-pin DC connector (FPL)
22-30VDC

Power adapter:

100-240 VAC to 24VDC

Dimensions:

21,7 x 20,6 x 5 cm

(WxDxH)

8.6 x 8.1 x 2.0 inch

Weight:

1,8 kg 3.97 lbs